By Jacob Pierce April 02, 2015
Aunjanue Ellis pic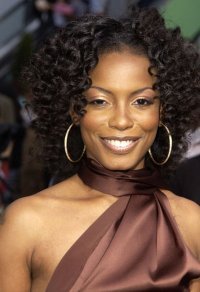 ks up the phone to begin a conversation with a reporter one weekday afternoon.  But before sharing her story in Jackson, Mississippi, Ellis quickly checks in on her mother who has Parkinson's disease.  "Can you hold on for one second, please?"
Ellis returns from caring for her mother using expressions, such as "child" and "you know" to why "we [African Americans] deny our African identity." She also explains that 'The Book of Negroes', miniseries which aired February 16-18, 2015 on BET, is "not necessarily a life" about just one woman.  And as the conversation continues, she reveals that as an inquisitive and precocious young woman she too recognized that, "there was a higher spirit involved in this."
Aunjanue grew up deeply rooted in the church experience in McComb, Mississippi where her grandmother was the pastor's wife.  Ellis learned how to communicate with others and to challenge anything questionable.  She recalls how Southerners "communicate the most basic stories" and that there was "always something mythical" about these stories.
At the age of nine or ten, Ellis stood up one day during Sunday school in church and asked, "Why is that?" when she observed "how a woman was suppose to behave."  And later in life, as a woman, Ellis would have to use the same approach to overcome the "plain old stupid, selfishness" in the demeanor of her absentee father.
She recalls how she wasn't interested in meeting him until her friend received a message from someone on Facebook claiming to be her paternal sister.  Ellis received the message and eventually met her father.  "He called me one time and that was it," says Ellis after the meeting.  "I just don't know what it would be like to have a child in this world and not having, not wanting anything to do with them." These life lessons are part of a trail of discoveries that would ultimately lead her to the theater and acting which she labels as "the intrepid part" of her existence.
Ellis began her journey in theater  and acting when she attended Tougaloo College in Jackson, Mississippi.  She auditioned for a play directed by Jim Barnhil, a Theater Arts professor at Brown University, in Providence, Rhode Island.  He would later encouraged her to do a semester as an exchange student at Brown.  Seizing the opportunity, Ellis left Tougaloo and uprooted herself back to Providence intent on matriculating at Brown. Upon arriving, she struggled with menial jobs but did succeeded with getting into Brown.  "I had like three jobs and in May or July, officially, I got fired from all of the jobs but I got into Brown." she states.
After receiving her undergraduate degree, Mr. Barnhill, encouraged her to attend graduate school at New York University.  This experience gave her the courage to aim for a career which has not been financially stable at times. Her first job was opposite Patrick Stewart as Ariel in the George C. Wolfe directed play, 'The Tempest' on Broadway.  Ellis admits that she may not have "continued to try to act" post graduation had it not been for this opportunity. Drawing similarities to contestants on shows such as 'American Idol' or 'The Voice', she voiced her concern that "they [onlookers] don't see the hard work that's involved."
From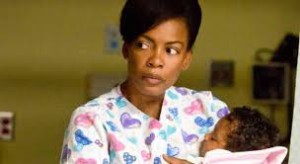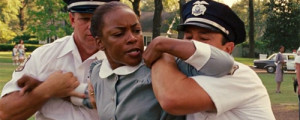 a child kidnapper in 'The Carlina White Story,' to her griping police brutality scene in 'The Help,' Ellis has indeed applied hard work to the craft of acting.  With this passion, she also feels strongly about the lack of diversity with the available roles – especially for African American women.  "They all behave a certain way and there's not much in between.  And I grieve over that."
Her demeanor and presence proved to be the perfect fit to play the lead character in "The Book of Negroes" based on Lawrence Hill's award winning novel.
Ellis starred as Aminata Diallo, who as a girl was kidnapped from her West Africa village and forced into slavery, in the BET miniseries, The Book of Negroes (also published as 'Someone Knows My Name.') Although the character is fictional, The Book of Negroes is actually a factual book which lists all the Black Loyalist in a historic British military ledger recording their passage on ships sailing from Manhattan to Nova Scotia.  These Loyalist served on the British side during the American Revolutionary War (mid to late 1700's) and moved to Nova Scotia for freedom and a better opportunity.  Yet Aunjanue illustrates that despite this history, "we [the human race] have not yet learned our lesson."
In response to those who suggest there are no new lessons to learn with these stories, she gives a meticulous juxtaposition between Slavery and War World I films such as 'Pass Glory' and 'All Quiet on The Western Front'.  Ellis recounts that "every Friday [on Turner Classic Movie channel] in July was dedicated to WWI" and "that won't be all the movies done [about] WWI, right? This is the problem: we don't have a problem with that," she states emphatically. 
Ellis says these WWI films contain quintessential underlying themes that need to be understood.  She recalls how in the film 'Cougar' a soldier says, '"One of the ways to keep men in line or keep men discipline is to kill one every now and then. How is that any different as African Americans?" she asks rhetorically. She also reiterates that the relevancy of the character, Diallo, is no different "from those girls getting kidnapped in Nigeria by Boko Harem." Ellis proclaims "maybe women will be forever vulnerable to men who exploit their bodies" but "we constantly battle it by being informed about our history."
And speaking of history, Ellis also reveals that the never ending plight of slavery should not be thought of as one simple narrative in every story.  She believes that "as many people who we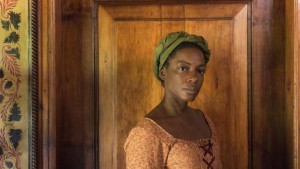 nt through and endured slavery, that's how many different stories there are." Ellis even reveals her thoughts on how actor Marlon Wayans expressed that "he didn't want to do another 12 Years a Slave. 'How many times can you say yes sir, Massa','" Ellis claims he said.  Emphatically she reminds that "we got so skewed by the circumstances of slavery."  And she brought it back full circle by agreeing with her costar, Lyric Brent, that The Book of Negroes "was a love story. Which just so happens to begin on a slave ship." On April 7, The Book of Negroes will be available for purchase on DVD.
After she finishes expressing her opinion on the topic, Ellis laughs to break the mood, stating "I'm off my little soapbox."  She then goes on to share her thoughts about the positive and negative images of blacks being portrayed on television.  "I think that we should play that all out; if we have the opportunity to do it," she says.  Ellis informed the reporter how she feels about other cultures telling the black perspective in films. "It feels like to me that white people get to tell our stories for us.  And that drives me crazy."
Furthermore, Ellis says African Americans "should put our own stories out" and reiterates that  "ain't nobody gonna tell our story like [we] tell your story."
Towards the end of the interview she revealed the true essence or theme of her character's story in the Book of Negroes.  "Her life is never reduced to her circumstance. That is the most powerful thing about being Black in America:  Is that who we are, [we] have never been reduced or defined by our own circumstances."