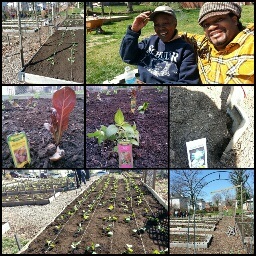 March 26, 2016 – SOGAA joined members of the Victorine Q. Adams Memorial Garden to place in fertile soil over 600 vegetable and herb plants in the 3200 Carlisle Block Association.
The Victorine Q. Adams Memorial Garden's primary mission is promoting positive community development and interaction of all residents. This is achieved through planning, open resident communication, participation and open land usage for the overall good of all members and associates of the non-profit foundation.
The location of the garden is at the rear of the south side of 3201 Carlisle Ave and the north east side of Vickers Road.
Victorine Q. Adams, 1912-2006, a Baltimore pioneer in African-American politics and civic leader, became the first black woman on the City Council nearly four decades ago.
A former schoolteacher, Mrs. Adams founded the Colored Women's Democratic Campaign Committee in 1946 to mobilize support for candidates – then invariably white – who were sympathetic to black causes, among them Theodore R. McKeldin, the city's last Republican mayor.
From a base in the Adams household's living room, the committee pushed for change and African-American voter registration.
An excellent example of civic involvement and community mobilization, we're proud to be continuing the tradition set forth by Victorine Q. Adams and invite everyone to join us for the harvest in 60 days! ‪#‎SOGAA‬‪#‎community‬ ‪#‎Garden‬ ‪#‎activism‬ ‪#‎Baltimore‬ ‪#‎VictorineQAdams‬‪#‎truebrotherlylove‬