By Jacob Pierce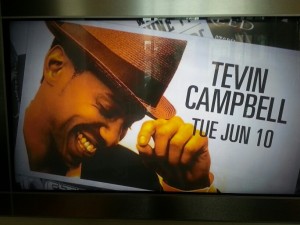 If you're an 80's baby or Generation Xer, you may recall R&B teen prodigy Tevin Campbell. With his trademark smile and incredible vocals, he created hits such as "Come Back To The World," "I'm Ready" and "Can We Talk." Teenagers jamming to his music may have pondered how fabulous it would be to live his life. Many would've preferred traveling around the world making millions instead of attending school and being a "normal teenager". In a recent conversation, with Tevin, he exemplifies the age old adage that "the grass isn't always greener on the other side."
As the evening approaches on June 10, 2014, Tevin completes a sound check prior to performing at the historic Howard Theater in Washington, D.C. This past summer, he also made appearances at B.B. Kings (in New York City) and The Essence Music Festival (in New Orleans) hungrily seeking to revive his career. Before going on stage, the multiplatinum selling and Grammy award nominated Tevin, paused to discuss the beginnings of his career, why he left the recording industry and how he was humbled through working on Broadway. Tevin also shares his empathy for Justin Bieber and his thoughts on contemporary R&B music.
Tevin was born in Waxahachie, Texas. "The 'X' is silent," he continually reiterates throughout the conversation. He grew up with a younger brother, sister and mother in the Methodist church. Like many R&B singers, his talent was discovered and nurtured in church. Tevin shares one of his funniest memories growing up in the church. "[I] never had to come to practice when we did choir rehearsals and stuff like that. All the kids used to be mad," he says with a chuckle. His undeniable talent would soon catch the eye of a music industry icon.
Grammy Award winning composer and producer, Quincy Jones, saw a tape of ten year old Tevin performing at a nightclub. There has been some confusion about who actually discovered Tevin, but he indicated that it was Jazz flutist Bobbi Humphrey. Tevin met her through Bobbi's brother who was good friends with his mother. Bobbi owned a nightclub called Sweetwaters in New York City where the tape Quincy saw was recorded. He reminisces, "I was in the club like ten years old and she sent that video tape to many record companies and Quincy saw the tape." Tevin eventually signed with Mr. Jones' Qwest Records in a joint venture with Warner Brothers Records. As time progressed, Quincy would go on to produce his first two albums and also become his mentor.
Quincy Jones released his Grammy award winning compilation album Back On the Block in 1989. The album introduced Tevin on a song entitled "Tomorrow (A Better You, Better Me)" which hit number one on the Billboard R&B charts. Tevin states that he "vividly remembers recording it. Ella Fitzgerald. Sarah Vaughn; everybody was there that day [in the recording studio]." After the success of Tomorrow, Tevin collaborated with cultural and musical icon, Prince. His first official single, "Round and Round" was released off of Prince's Graffiti Bridge soundtrack and rose to number 12 on the U.S. Billboard Charts in 1990.
These singles became the foundation for his 1991 platinum debut album, T.E.V.I.N. which spawned other hits such as the top ten record "Tell me what you want me to do" and "Goodbye." Just a teenager with a high top fade, Tevin was about to embark on an incredible journey that happened so fast while he was still extremely young. Back down memory lane, he mentions "I think I did so much when I was younger that I don't even remember most of it."
Tevin's sophomore album, I'm Ready was produced by Kenneth "Babyface" Edmonds in 1993, and included the top ten hits "I'm Ready" and fan favorite "Can We Talk." The album became his most successful release going multiplatinum. His next release Back To The World by contrast performed poorly to the previous albums by only going gold. Tevin's self titled fourth album was released in 1998 with the lead single Another Way" entering the U.S. and R&B charts at 100 and 25 on the charts, respectively. This album again failed to meet the success of his earlier work. In hindsight, he divulges "I didn't know what I was doing. The R&B department was lost. I didn't have those people that were there when I first started off. They disappeared and this new crew came in." The disappointing album sales and years of recording, since age eleven, prompted Tevin to take a much needed break.
Unlike most normal young adults, Tevin states that he had "never lived on his own."  This break from the business forced him to become independent. Many fans are not aware that Tevin appeared in Hairspray on Broadway in New York and Australia for nearly six years.  The routine and preparation for the daily shows proved to be beneficial. He states,"I couldn't take care of me. I wasn't able to do really simple stuff that a normal 19, 20, 21 [year old] is suppose to do. I couldn't take care of myself without people around me. And I got to use to it and I needed to step away and humble myself." He recalls that working on Broadway "was a team effort [and] if you didn't show up on time, you had to pay a fine. It wasn't all about me which is something I needed." Along with appearing on Broadway, he also toured parts of South Africa performing in front of audiences with thousands of people. "To think they grew up on this music and it was their first time seeing me live is like wow," he says with amazement.
Relating back to his past as a young artist, Tevin empathizes with pop artist Justin Bieber. Sporadically, Bieber pops into the news stratosphere regarding the paparazzi's fascination with his personal life. Tevin can relate to this based on his own trials and tribulations. In 1999, Tevin was arrested for allegedly soliciting sex from an undercover policeman in Van Nuys, California. He pled no contest and was ordered to attend a class on AIDS awareness. Comparing his journey to Bieber he says, "If you didn't make millions of dollars at that age, you do not understand. If social media was out when I was already [famous], they would look down on me." Acknowledging some regrets, Tevin also wishes he would have gone to school more while in the industry. "I missed out on a lot of that."
Tevin also discussed the state of R&B music and believes that R&B "hasn't been done right." Lately R&B has suffered a decline in radio as more artists crossover into pop or rock music. He refers to an R&B song as a "church song and people still have a deep love for it." Tevin is a fan of Kelly Price and Neyo, but states there isn't a lot out there in terms of music. He feels that there should be no labels on any genre of music especially in light of how music genres are blending. Tevin even mentions the collaboration of house and bluegrass music on a current song. "There is a song called 'Hey Brother' by Avici." Tapping his hand to produce the song's beat on the table, he says "kids don't label music" but, [they] believe in great songs."
Wrapping up the conversation, Tevin later informs of a new song he's currently recording called "Addictive." It is a remix of a previously recorded track. Although he was not able to reveal more songs or a timeframe for the release of his next album, he proclaims "it's coming out real soon." As the time draws near for him to warm up and hit the stage, he hushes "the haters" who opine about him not having any more talent: "the suspicion will draw people in and when they hear me hit that note, then they'll see" he says.