By Jacob Pierce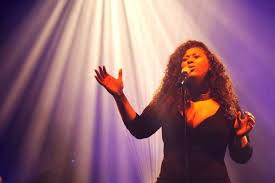 "Don't call it a comeback. I been here for years," rapper LL Cool J exclaims in the 90's hit record "Mama Said Knock You Out." The same exhortation appears to apply to R&B singer-songwriter Jazmine Sullivan who is ready for a return to R&B prominence. R&B is also returning to the forefront of music where it had been in the 1980's and 1990's with the "comebacks" of: Joe, Jagged Edge, Tevin Campbell and now Jazmine Sullivan. On Friday August 29th, she will appear at The Howard Theatre with special guest Elle Varner at an event sponsored by WKYS 93.9 FM entitled "R&B Live." The first single "Dumb" off Jazmine Sullivan's third album, Reality Show has been in heavy rotation on the radio and R&B listeners could not be more ecstatic.
Jazmine, now 27, got her first break in the music industry when she was only 11 years old. She appeared at the Apollo Theatre in Harlem singing "Accept What God Allows."  The Philadelphia native wowed the crowd with her mature and deeply heart felt vocals.  Jazmine's talent was cultivated in church and on a Philly stage called The Black Lily, which also launched the careers of Jill Scott, Musiq Soulchild and the music duo Kindred.  The hard work ethic and fine tuning of her talent led to her being signed by Jive Records when she was only 16 years old. Yet, after a few years she parted ways with the label and continued grinding and perfecting her songwriting abilities.
In 2008 Jazmine signed with Clive Davis and released her debut album Fearless, which contained three top ten R&B hits including "Need U Bad" (which reached number one on the R&B charts), "Bust Your Windows" and "Lions, Tigers and Bears."  The album was certified gold and both fans and industry critics recognized her vast musical creativity.
Jazmine returned to the music scene in 2010 with her second album Love Me Back. It garnered the single "Holding you Down (Goin' In Circles)" which was another top ten R&B hit and a second single, "10 Seconds."  The sophomore album only sold half as many units as Fearless. Within a year after the release of Love Me Back, Jazmine surprisingly tweeted, "I promised myself when it wasn't fun anymore I wouldn't do it. I got some things to figure out."  The tweet abruptly announced an indefinite break from the music industry.
After years of self reflection and strenuous work, Jazmine is ready to return with her new album "Reality Show."  Set to drop later this year, fans and critics alike can expect to be refreshed with genuine R&B music with an interesting perspective. And if you doubt her homecoming to music, the first single suggests with lyrics over its heavy bass thumps: "You must be dumb, dumb, dumb."