By Jacob Pierce  April 21, 2015
Imagine being at a raucous high school football game.  The home and opposing team sides of the stadium are filled with people who are loud and enthusiastic.  I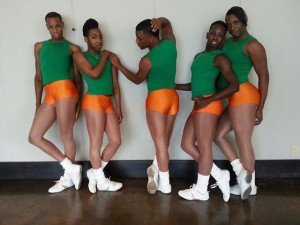 t's halftime.  In the middle of the stands, are two battling uniformed bands consisting of Majorettes with sequined, high cut leotards dancing out in front.  As the Majorettes perform a choreographed routine, they start to mimic the same dance steps one by one.  The last dancer, known as the tail, ends the routine with a burst of energy.
And higher up in the stands, a group of individuals are also inspired to J- sett (Think of Beyoncé's 'Single Ladies' (Put a Ring on It) and that is it) as a not so inspired or gracious crowd looks on.  The group of male dancers wearing red and green sequined leotards and tights are "The Prancing Elites."  According to Adrian Clemons, a member of the Elites, the group has a talent "that should be shared with the world."
On Wednesday, April 22, 2015, the talents, tribulations and triumphs of the group will be shared with U.S. audiences when the Oxygen network premieres a ground breaking show called "The Prancing Elites Project." The show chronicles the lives of this extraordinary group of African Americ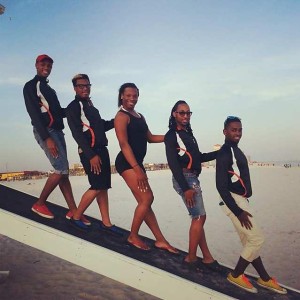 an gay and transgendered individuals from Mobile, Alabama who face adversity for doing what they enjoy – Dancing.  In a recent conversation with Prancing Elites members Adrian Clemons and Kareem Davis, the history of the group, the issues around male J-setting and how the series might be perceived in the African American community was discussed.
The Prancing Elites were created from a lack of acceptance of male J-setters in their community.  Typically, only women are allowed to become a part of any drill or dance teams in the south.  Thus, to pursue their passion for dancing, they came together to start their own team.  The group was formed in 2004 as the 'J-Settes of Mobile,' which is what they were called before the team's captain, 'Elite' passed away.  After Kentrell Collins became captain of the team, they were dubbed 'The Prancing Elites' in honor of their fallen former captain.  "So we just came along and made it our own group and we just started doing things that we were told we couldn't do because we all should be treated equal," says Adrian.
J- Setting in recent years has become highly completive with opposing troops engaging in 'dance-offs' primarily at African American gay clubs and at pride events.  And yet the Prancing Elites are not exactly a J-setting team out there battling with others troupes.  "We are the line that defeats odds" says Adrian "We want to take it [J-setting] out of the underground side which is within the LGBT African American clubs."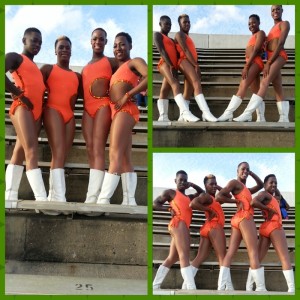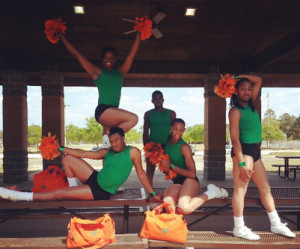 Yet this type of dancing with men evokes disdain and is often met with resistance to The Prancing Elites being allowed to dance at events.  One of the reasons is that many feel that J- setting is only for women and not for men.  Kareem believes the "issue is male driven" and "that people will only lash out on something they don't know and don't understand."  He further states, "It's all the same" in terms of the costumes and dancing.  Also, the African American gay community has issues with them as well due to the perception of them not being masculine enough.  "I just take it as some of them, they don't have the pride, dignity and courage and you know personality that we have," says Adrian.
As for what people will perceive and possibly learn from their personal growth or story-line in the series, Kareem shared his personal struggles with an older sister who is a lesbian and how "being that the girl who is my sister, I should be trying to accept and realize who she is."  Ultimately what emerged is that everyone will relate to his story and also the other members of the Prancing Elites.  "Just anybody dealing with anything," say Adrian, "weight loss, feeling insecure about their looks, [there's] a message for anybody going through anything."   Kareem chimed in with his thoughts in terms of what viewers will see in the series. "It's like a real insight to what it is to not only be a Prancing Elite but what it means to be us,"  he says.