By Jacob Pierce
March 18, 2016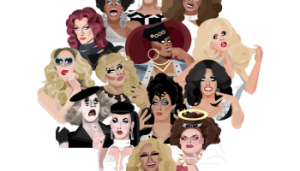 "So I get to go overseas?" excitedly says Chi Chi DeVayne as she won her first challenge on episode two of RuPual's Drag Race Season 8.   This was the laugh for the night as this "Southern Bell" confused winning a trip to London, England with the trip she actually won to "New England" in the northeast.   The ending of this episode saw-for only the second time ever- two queens asked to "sashay away" from the competition due to their lack of energy from the lip sync.  This was followed by a phone call RuPaul made afterwards asking someone to come to the show.
Throughout this episode, there were many more background stories and personalities revealed than we saw in first episode.  Chi Chi shared how she had to have a thug and masculine façade growing up; while Kim Chi revealed that she was overweight and insecure as a child.  Also new was the "shade tree" room where contestants can go and vent their feelings on camera – similar to Bad Girls' Club and The Real World.

Starting off, the queens entered the work room relieved after surviving the first elimination.  Robbie Turner seemed a little shaken as she stated how relieved she was that it was all over.  I bet you next time Robbie won't forget and select herself last in a challenge as she came really close to being in the bottom two.  Shade came from Naomi Smalls as she reference herself and Laila McQueen when stating "Everyone wants to meet the Star (Smalls) and not the entourage" (McQueen.)
The mini challenge was cute as the queens performed to AB Soto's Cha Cha featuring RuPaul.  Cynthia and Chi Chi turned it out as Cynthia put one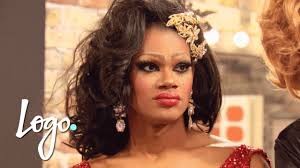 foot rhythmically in front of the other while Chi Chi did the ball backdrop.   They both eventually became the winners and team captains.  Chi Chi's group was the "Shady Bitches" and Cynthia's was the "Lady Bitches."  This was a part of the main challenge this week called "Bitch Perfect" similar to the film "Pitch Perfect" – which I still have yet to see.
Overall, their performances collectively were great and very comical.  Kim Chi's acting was better than her dancing while Chi Chi did an upside down split while lip singing during the performance – and was the named challenge winner.  This episode showed Thorgy Thor as Glenda the Good Witch of this competition while Acid Betty is so far – the bitch of this season.
It's rather interesting that similar to last year challenge in which the girls did a flight attendant skit, the team with the most rhythm where from the east coast and Black; except for Dax who  struggled and really tried hard to get the choreography.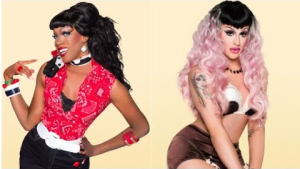 In terms of the "movie premier realness" runway that followed the performances, Acid turned it out with the side ear piece; while Thorgy opted to do a pants suit which was interesting.  I thought Laila's dress should have been poofier to give us life while Dax's dress didn't produce a good silhouette.  The judges agreed as they were both in the bottom two and were eliminated (to Gloria Gaynor's "I will survive").  I caught up with McQueen to talk about her experience with the show and that moment.
On being in the competition with so many big personalities: "Well I come from a very small town and have never done this sort of production before.  So it was a bit overwhelming at first.  And then to add on all the girls who have been doing the same weirdo freak drag as me- like Acid and Thorgy and Kim Chi.  It's for sure intimidating in the sense of a competition."
Being surprise about the elimination: "I was just so disappointed in myself during that moment in time for letting myself down and going home so early.  It's a shocking and shitty situation but it's not what defines me."
What he wants to say to people that have misunderstood Lalia McQueen: "We are under extreme conditions and circumstances during productions…I think it's important to realize that  and not to judge someone's entire drag talents and capabilities just on a few 45 minutes of air time for an episode." 
See you next week for episode three.