By Jacob Pierce
March 24, 2016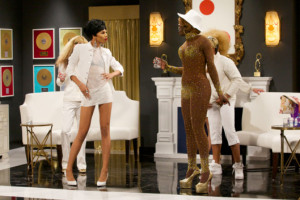 Hey what's going on?  This is Jacob once again with your #Dragcap for RuPaul's Drag Race episode 3.  Remember how the previous episode ended with a phone call RuPaul made asking someone to come to the show post eliminating two queens?  It was discovered that she was speaking with Nashay Lopez:  The first queen asked to "sashay" away this season – and who is now back on the show.
For the mini challenge, the contestants were asked to style and runway walk their own black robes inspired by the Supreme Court Justices who majorly ruled in favor of  same sex marriage last year.  The category was "supreme court realness."
Naomi and Nashay won the challenge and were selected as team captains in traditional fashion for the RuCo's Empire challenge. Leading up to the return of Fox's "Empire," RuPaul directed – along with Faith Evans – some scenes inspired by the hit show.

The two teams did an incredible job as Thorgy Thor and Bob the Drag Queen both played the role of Cookie (Taraji P. Henson) from the TV drama.  The other drag queens were assigned roles similar to characters from the series; but with names such as Macaroon, Shortbread and Ginger Snap.  Thor re-enacted the scene where Cookie beat Hakeem with a broom, while Bob replayed the scene of Cookie wearing revealing lingerie to entice Luscious at his office.  I thought Bob and Thor did an incredible job with both their improvisation and acting.
Then it was time for the main stage challenge in which participants were asked to do "Roller Girl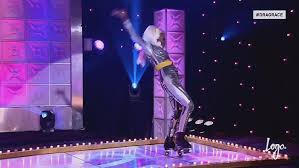 Realness" while wearing roller skates on the runway. The best looks of the runway went to Nashay, Kim Chi and Acid Betty while Bob donned a robotic outfit to partially make up for not being able to skate.
Smart move as Bob ended up winning the challenge.
It was later discovered that Robbie Turner and Cynthia Lee Fountaine ended up in the bottom two – up for elimination.  They lip synced to "Mesmerize" by Faith Evans which seemed like a disco track.
Fountaine ended up being eliminated while Robbie survived once again.  I got the chance to catch up with her and similar to her personality, she gave some comedic, cuckoo, yet congenial responses.
How do you feel you performed during the Empire inspired challenge?
"Hola mis amores (translation: Hello my loves.) Thanks for this interview. I love it. Also the panel of judges said they love my performance because how funny it was."
Give us a little detail as to how you got into drag and are you a regular performer at Oil Can Harry's in Austin?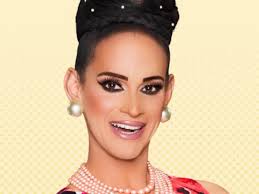 "I Started drag in 2006 (This year 2016 will be my 10th Anniversary.)  And I'm a regular performer at OHC for almost 8 years [which is] my home bar." 
Any regrets or moments you want to relieve on drag race that you could do over?
"I have no regrets. I love everything the way I executed. But most important the experience to become part of the show is just fantastic." 
See you on next Monday.  If there are any questions you would like me to ask the remaining participants, email me at [email protected]