By Jacob Pierce   September 7, 2014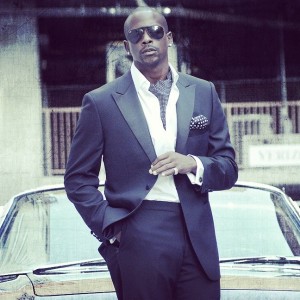 In the middle of a busy block in lower Manhattan, lies 36 Suite Bar: an upscale bar with two tall and husky bodyguards patrolling the entrance as if they're trying to keep a secret intact.  Keith Robinson, actor and musician who prefers the term "artist," sits on a leather buttoned couch in the VIP section eating quickly before the American Black Film Festival (ABFF) Awards ceremony.  The ABFF is an annual film festival where independent African American filmmakers and television producers showcase their work to the public.  In an intimate dim setting with loud Hip Hop and R&B music blasting through the speakers, Keith speaks of CRU (a film showcased at the ABFF), his upbringing in the south, divine intervention and his love for both music and acting.
Nominated for multiple awards such as best director and best actor (for Robinson's performance), the film CRU was screened at the SVA Theatre during the 2014 ABFF gathering. The cast of CRU includes Richard T. Jones, Antwon Tanner, Sammi Rotibi and Melissa De Souza. In his first lead role, Robinson plays the character Marshall Ogden (M.O.) who decides to hold a reunion with his high school friends to hash out some truths and dark secrets.  Keith describes how he became involved in the project, stating that 'Antwon Tanner called me and suggested I play the role.  I read the script and I loved it.'  After the screening, Keith felt the movie was received well 'as it touched a chord with everybody.' His ability to make a connection with audiences comes from a drive which was cultivated by his parents.
Keith grew up in both Louisville, Kentucky and Augusta, Georgia.  His mother,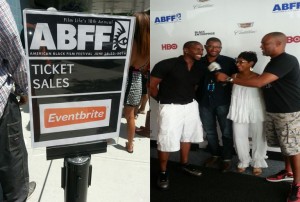 father, brother and sister lived in what he remembers as 'a pretty normal Southern town. [The Kentucky derby] is dope', he insists as an area to visit in Louisville. In school he was heavy into sports such as basketball (point guard) and football (wide receiver.)  Yet similar to the chord or feeling that was felt after reading the script for CRU; he has always felt the same way about music.  "I've been singing all my life pretty much.  It started in Church" he says. He eventually went on to attend the University of Georgia in Athens. It was there that he started a singing group which consisted of him and two other people.  Ro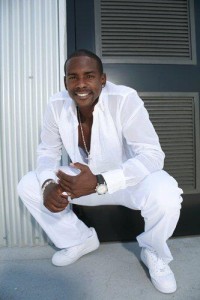 binson states that 'I was in a group signed to Motown back in the day.' This initial foray into the music industry proved to be unsuccessful as the group was eventually released from the label.  But it was Robinson's stumble into an acting class after the music door shut that would change his life's trajectory.
After the group cut ties with Motown, they decided to move to Los Angeles to try their hand at music once again.  While promoting his music in L.A., Keith reveals how he got into acting 'by accident.' He further stated that 'I went to an acting class and the man thought I was good.'  He told me to go to an audition and I got it [the role].'  This first role was as the character Joe Rawlings in film Power Rangers Light Speed Rescue.  Robinson describes this role as being 'great [and] it was my first introduction to acting.' This initial role would eventually lead to appearances in sitcoms such as White Collar and Love That Girl with Tatiana Ali, and movies such as "This Christmas" with Chris Brown. Robinson is probably best known for his portrayal of C.C. White in the hit movie Dreamgirls with co-stars Jennifer Hudson and Beyoncé Knowles.  Although he is an actor with multiple movies under his belt, his passion for music has never died.
With his passions, being for both music and acting, Robinson is able to mesh the two forms of artistry together in his solo music career and movie projects. Utilizing both talents, he acted in and provided music for the soundtrack of CRU.  Referring to the chance to sing and act in a project Keith says he 'enjoys the opportunity when it presents itself.'  Robinson currently has singles out now along with a new single released on August 5th called "Famous" off his currently unreleased Utopia album.  In the past, Keith has contributed his vocals to movie soundtracks such as Fat Albert, Dreamgirls and Blade: Trinity. Robinson mentions how he worked on the Blade: Trinity
soundtrack with RZA (producer and former member of rap group, Wu-Tang) "I was cool with RZA and we did it." Robinson describes his sound as 'Soul music' which he feels is an 'endangered species' due to low radio airplay.  Yet Keith is adamant about ensuring that R&B and Soul music stands the test of time;  stating that 'I think it will never go away.  Artist like myself and others are trying to keep it alive,' he states.  In the videos to his singles, he always has a beautiful woman by his side, but don't hold your breath ladies – he reveals that he is not single and admits to his disappointed female fans 'I still gotta love somebody.'
Despite his busy music and acting career, Robinson remains humble by his success and always finds time to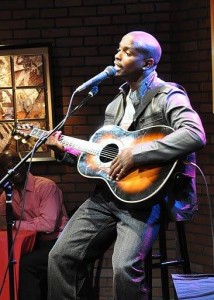 volunteer and contribute to service organizations.  Keith routinely volunteers with the Boys and Girls club of America. He also recently did a campaign called "Black is Beautiful" with the WNBA dealing with self-esteem and confidence among young African American women. 'I give back when I can,' says Keith of his commitment to giving back.
Not quite finished with his meal, Robinson is whisked away from the 36 Suite Bar to attend the ABFF Awards ceremony where he would win in the Best Actor category for his performance in CRU.  'I am a testament of God's favor' he humbly states as he graciously accepts the award. "As an artist you are constantly grinding and looking for work [and] it's good to stop sometimes to be recognized."