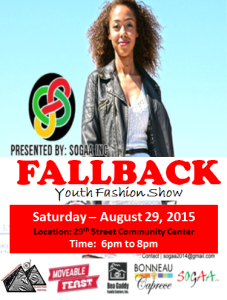 SOGAA Inc. will host its first fashion show entitled FallBack; a charitable fundraiser effort to raise money for SOGAA's second annual Baltimore International Black Film Festival (BIBFF).  The Fallback will present signature looks from independent design talent, modeled by Baltimore City youth for the fall 2015 season, targeting ages 14-19.  A portion of the proceeds from the event will be donated to two charities:  The Bea Gaddy Family Centers and Moveable Feast.  The FallBack 2015 event is Co-Produced by Caprece Jackson-Garrett, owner and Principle Consultant, Bonneau-Caprece, LLC.
SAVE THE DATE
FALLBACK FASHION SHOW 2015
Saturday August 29, 2015
Location: 29th Street Community Center
Purchase Your Tickets to the 1st Annual FallBack Fashion Show Today!!!
General Admission: August 29, 2015 (6pm-8pm)
VIP Admission: August 29, 2015 (6pm-8pm)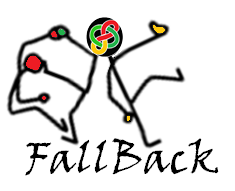 SOGAA Inc.:  A 501 (c)(3) non-profit social /service organization established 2014 in Baltimore by black men who love men.  SOGAA Inc. is dedicated to enhancing the social, economic, physical and mental wellness of its members and community.  One of the events funded by SOGAA Inc. is the Baltimore International Black Film Festival (BIBFF) which in its inaugural year closed with the 2015 NAACP award winner for best documentary film, "Through a Lens Darkly: Black Photographers and the Emergence of a People." The BIBFF serves as a much needed outlet for independent films for, by and about African Americans, the African Diaspora and members the Same Gender Loving – Lesbian Gay Bisexual & Transgender (SGL-LGBT) community locally, nationally and globally.  Kenneth Moore Jr. is the Founder/Director of the BIBFF. Jacob Pierce is the Executive Producer of FallBack.
Bea Gaddy Family Centers Inc.:  Founded by Beatrice Frankie Fowler, the philanthropist and humanitarian used her lottery winnings in 1981 to feed 49 people in her home on Thanksgiving Day. She later found The Bea Gaddy Family Centers, which accepts donations to feed the homeless, offer education/employment resources and support the annual Bea Gaddy Thanksgiving dinner that reportedly fed more than 12, 000 Marylanders last year.  Cynthia Brooks, Bea Gaddy's only living daughter, is the Center's Executive Director.
Moveable Feast:  An organization started by Robert Mehl in 1989, an employee of Baltimore City Health Department, was asked to lead a committee concerning HIV/AIDS. The mantra, as the website reports, is to "provide nutritious meals to people living with HIV/AIDS, and deliver these meals with compassion and care."   Moveable Feast also sponsors events such as "Ride of the Feast," which is a two-day fundraising bike ride from Ocean City to Moveable Feast headquarters.  Thomas Bonderenko is the Executive Director.
Bonneau Caprece LLC:  established in 2010 by Caprece Jackson-Garrett, owner and principal consultant, to provide strategic marketing, public relations and event production/management services. "Wear It Out Baltimore" (WIOB), a subsidiary of Bonneau Caprece, was co-founded in 2012 by Caprece and Kellie Easton to provide an ongoing platform to highlight selected design talent, industry professionals and business owners progressing in Baltimore's emerging Fashion Community.  The goal of WIOB is for those showcased to be acknowledged, supported and presented to the public at-large. The WIOB Showcase Series has been presented in partnership with top-tier venues and signature events including The Inner Harbor, Grand Historic Venue, Creative Alliance,  Maryland Art Place and The Gathering (Food Truck Caravan).  Caprece is Co-Executive Producer of FallBack.