By Jacob Pierce
March 09, 2016
Did you see the first episode of 'RuPaul's Drag Race' season eight?  Well, let me give you the weekly recap before the next episode.   This episode also marked the 100th episode in whic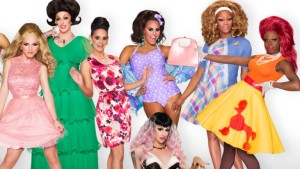 h 12 drag queen fight for the title of "America's Next Drag Superstar" and a $100,000 cash prize.  The opener was filled with new and interesting talent.  Of course, it was done in a big way with the episode being extended to an hour and a half.  Truthfully speaking, I was surprised by the variety of talent displayed – but I was a little underwhelmed by the lack of true creativity in this first episode.  But first let's dig into the interesting notes from the night.
I loved the entrances of each queen.  It's what I live for.  Reviewing previous performances and social media accounts of several of the queens, I thought Bob The Drag Queen was a hoot and Acid Betty's make up was very intricate and colorful.  Robbie Turner's early shade reminded me of Bianca Del Rio when she came in with the second batch of contestants from her season.  Wow, Naomi Smalls has the legs of a tall model, but I am curious to see what she will bring to the table outside of pretty.  Kim Chi is one queen who will truly stand out this season because of her anime inspired makeup.  True to my southern roots, I loved Chi Chi DeVayne (Shreveport, LA) and Cynthia Lee Fontain from Austin, Texas.

For their first photo shoot, RuPaul did not play any games with the girls; as each contestant had to shoot with most of the previous franchise winners.  Talk about talking the talk and walking that walk immediately in the competition.  Some excelled in the shoot such as Derrick Barry (Britney Spears impersonator) and Naomi Smalls (She got legs); but others such as Laila McQueen (Goth queen with booty) didn't do so hot.
The photo shoot was followed by the actual challenge, where Robbie Turner assigned each queen to reenact challenges from previous seasons with themes such as: The Queen who Mopped Christmas, Float your Boat and Glitter Ball.
This first test brought out the best in some queens; while some queens played it safe – maybe thinking they'd have the opportunity to 'bring it' next time.  Kim Chi was the challenge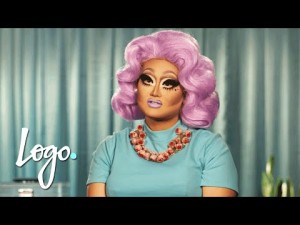 winner and many of the others were read a little by Michelle Visage (RuPaul's right boob and judge.)  This left Naysha Lopez and Laila McQueen in the bottom two; forced to "lip sync for their life" to Lady Gaga's Applause.  I don't know what Naysha was doing in terms of choreography, but it seemed like her vogue moves did not keep up with the music.  McQueen on the other hand gave you life; whipping her hair and being seductive with her moves.  Sadly, Lopez was sent home.
I got the chance to catch up with Lopez after her exit to ask her some questions.
She provided some background information on how she got into drag and her titles:  "I've been doing drag for about 13 years now.  I'm a former Miss Continental which is an international pageant that has been around for 35 years," Lopez stated.
On regrets about telling the judges that it was her first time sewing:  "I don't make excuses.  I just try to get better."
On how pageant girls can be shaded during the competition:  "I think they like someone who is rough around the edges [as] opposed to someone so polished all the time."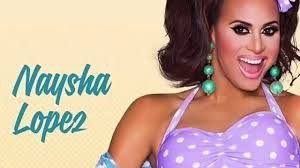 On whom she's rooting for in the completion:  "I really love Bob The Drag Queen and Thorgy Thor.  They aren't fake.  They are real and I can appreciate real.  They both have a special place in my heart."
See you next Monday night at 9pm on Logo for the next episode where I will be providing live commentary and later in the week where I'll share an interview with the next queen to exit.  "Gentlemen start your engines.  And may the best woman win."